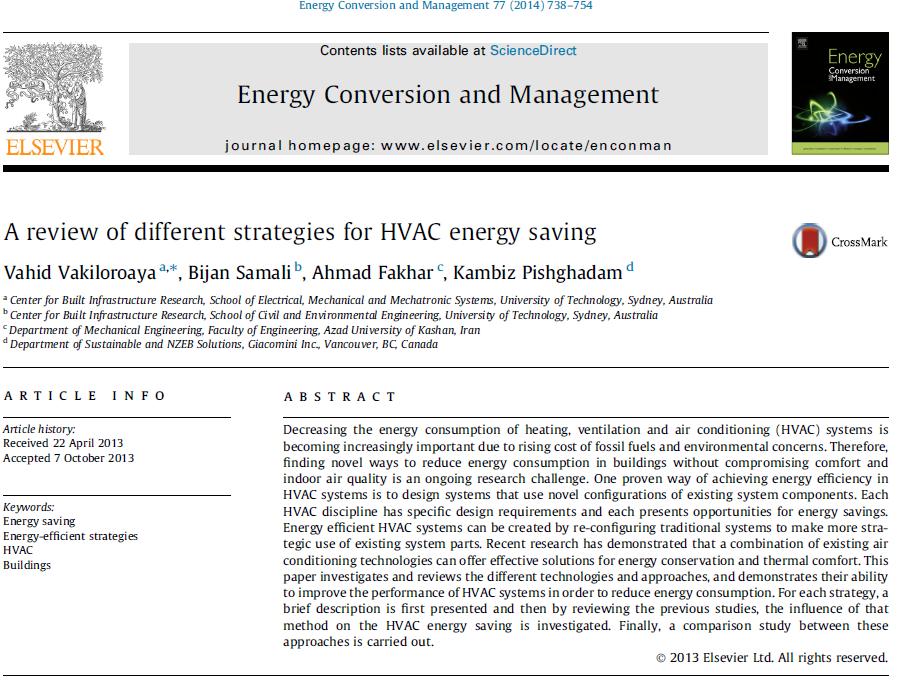 Decreasing the energy consumption of heating, ventilation and air conditioning (HVAC) systems is
becoming increasingly important due to rising cost of fossil fuels and environmental concerns. Therefore,
finding novel ways to reduce energy consumption in buildings without compromising comfort and
indoor air quality is an ongoing research challenge. One proven way of achieving energy efficiency in
HVAC systems is to design systems that use novel configurations of existing system components. Each
HVAC discipline has specific design requirements and each presents opportunities for energy savings.
Energy efficient HVAC systems can be created by re-configuring traditional systems to make more strategic
use of existing system parts. Recent research has demonstrated that a combination of existing air
conditioning technologies can offer effective solutions for energy conservation and thermal comfort. This
paper investigates and reviews the different technologies and approaches, and demonstrates their ability
to improve the performance of HVAC systems in order to reduce energy consumption. For each strategy, a
brief description is first presented and then by reviewing the previous studies, the influence of that
method on the HVAC energy saving is investigated. Finally, a comparison study between these
approaches is carried out.
Building energy regulations, also referred to as building energy codes, emerged in the 1970s as an essential
tool for improving energy efficiency and minimising energy consumption in buildings. Basically they aim
at setting minimum energy efficiency requirements to achieve energy efficient design in new buildings.
This paper analyses the development of building energy codes concerning Heating, Ventilation and Air-
Conditioning (HVAC) energy efficiency, along with their scope and compliance paths. The paper focuses on
the synthesis of energy efficiency requirements on HVAC systems of non-residential buildings in different
regulations. Critical issues for the development of prescriptive and performance regulatory paths for this
type of systems in non-residential buildings are discussed in order to improve the understanding of HVAC
energy efficiency topics and to provide policy makers with a menu of options to strengthen the HVAC
section of building energy codes.
A variable refrigerant flow (VRF) classification is a multi-split Heating, Ventilation and Air
Conditioning (HVAC) system that controls refrigerant flow to control separable zones to
residential consumer's needs. VRF specific components regulate refrigerant flow control for
system performance and reliability. The objective of this review is to recognize the VRF system
components that affect various aspects of operation and performance. The investigate of
preceding experimentation will better assist in the direction of future progress as development of
expansive residential VRF systems are still in primary phases. Findings show that specific testing
through different compressor arrangements, electronic expansion valve (EEV) positioning, and
air flow operations affect performance and thermal comfort. The system responsiveness and
sensitivity are related to the quantity of indoor evaporators that are connected to the system.