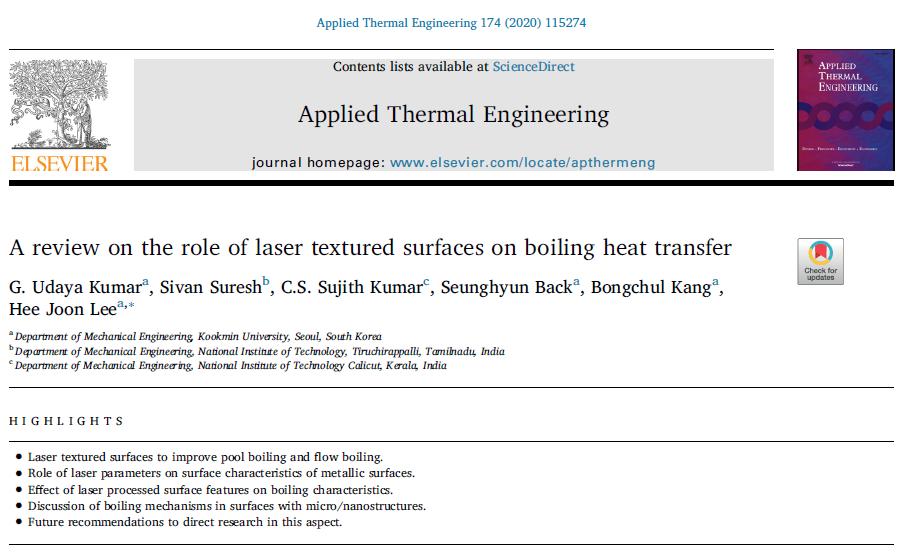 Laser texturing can effectively obtain the desired surface features on metals through melting and solidification,
or through laser-based additive manufacturing techniques. In phase-change heat transfer applications, such
modified surfaces can be both beneficial and durable. Surface modification by ultrafast processing lasers alters
the heat transfer performances of boiling systems. This review summarizes the work leading to these technologies
and their role in influencing the performance of boiling systems. It first discusses the types and material
processing mechanism of lasers. Then, the applications of laser-textured surfaces in pool boiling and flow boiling
are discussed in detail. Different types of surface patterns can be fabricated on boiling surfaces depending on
experimental requirements. It is clearly evident that the design parameters and surface characteristics like
surface roughness, surface wettability, and porosity can be easily controlled by controlling the laser parameters.
Also, heat transfer performance of the textured surfaces changes as compared to the surfaces without any texturing.
As surface features generated as a result of laser texturing are permanent, the durability of the structures
can be increased with prolonged boiling performance. The review concludes with future recommendations for
identifying the research gaps and improving the heat transfer processes by laser-textured surfaces.