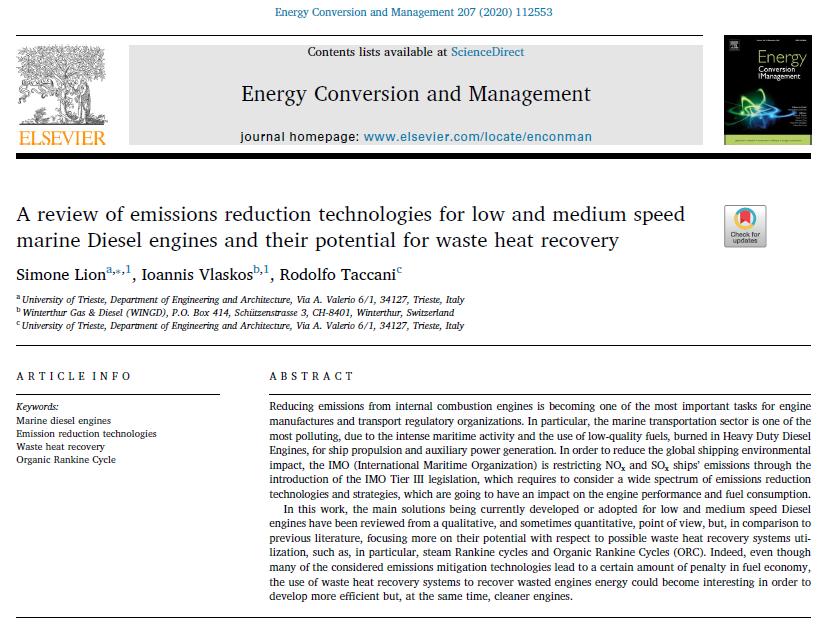 Reducing emissions from internal combustion engines is becoming one of the most important tasks for engine
manufactures and transport regulatory organizations. In particular, the marine transportation sector is one of the
most polluting, due to the intense maritime activity and the use of low-quality fuels, burned in Heavy Duty Diesel
Engines, for ship propulsion and auxiliary power generation. In order to reduce the global shipping environmental
impact, the IMO (International Maritime Organization) is restricting NOx and SOx ships' emissions through the
introduction of the IMO Tier III legislation, which requires to consider a wide spectrum of emissions reduction
technologies and strategies, which are going to have an impact on the engine performance and fuel consumption.
In this work, the main solutions being currently developed or adopted for low and medium speed Diesel
engines have been reviewed from a qualitative, and sometimes quantitative, point of view, but, in comparison to
previous literature, focusing more on their potential with respect to possible waste heat recovery systems utilization,
such as, in particular, steam Rankine cycles and Organic Rankine Cycles (ORC). Indeed, even though
many of the considered emissions mitigation technologies lead to a certain amount of penalty in fuel economy,
the use of waste heat recovery systems to recover wasted engines energy could become interesting in order to
develop more efficient but, at the same time, cleaner engines.