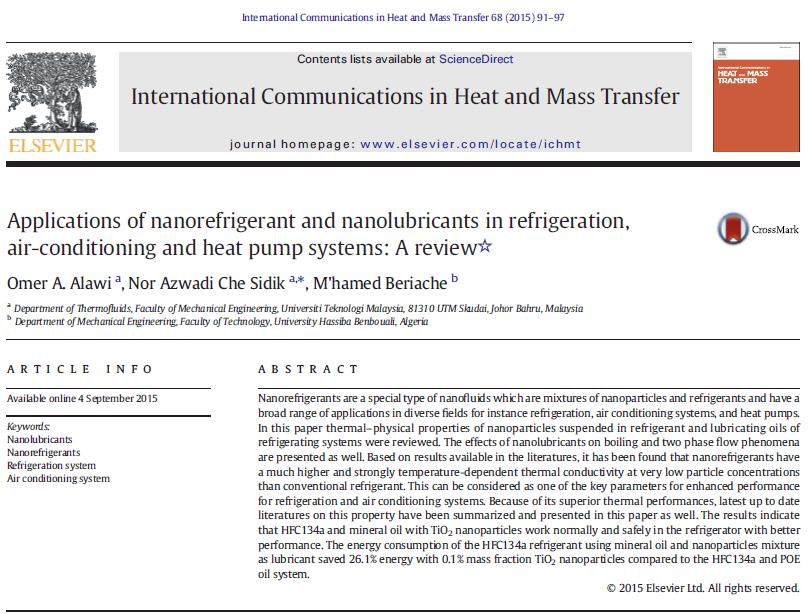 Nanorefrigerants are a special type of nanofluidswhich are mixtures of nanoparticles and refrigerants and have a
broad range of applications in diverse fields for instance refrigeration, air conditioning systems, and heat pumps.
In this paper thermal–physical properties of nanoparticles suspended in refrigerant and lubricating oils of
refrigerating systems were reviewed. The effects of nanolubricants on boiling and two phase flow phenomena
are presented as well. Based on results available in the literatures, it has been found that nanorefrigerants have
a much higher and strongly temperature-dependent thermal conductivity at very low particle concentrations
than conventional refrigerant. This can be considered as one of the key parameters for enhanced performance
for refrigeration and air conditioning systems. Because of its superior thermal performances, latest up to date
literatures on this property have been summarized and presented in this paper as well. The results indicate
that HFC134a and mineral oil with TiO2 nanoparticles work normally and safely in the refrigerator with better
performance. The energy consumption of the HFC134a refrigerant using mineral oil and nanoparticles mixture
as lubricant saved 26.1% energy with 0.1% mass fraction TiO2 nanoparticles compared to the HFC134a and POE
oil system.