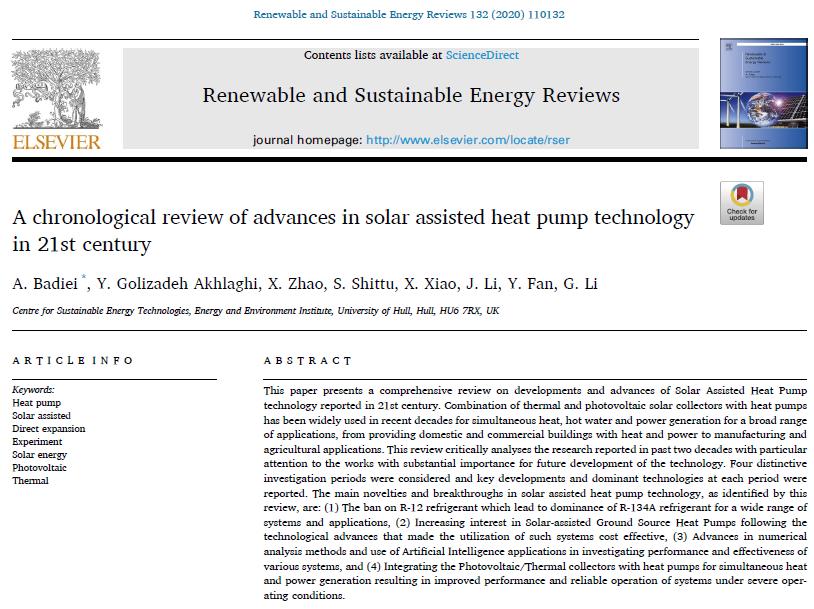 This paper presents a comprehensive review on developments and advances of Solar Assisted Heat Pump
technology reported in 21st century. Combination of thermal and photovoltaic solar collectors with heat pumps
has been widely used in recent decades for simultaneous heat, hot water and power generation for a broad range
of applications, from providing domestic and commercial buildings with heat and power to manufacturing and
agricultural applications. This review critically analyses the research reported in past two decades with particular
attention to the works with substantial importance for future development of the technology. Four distinctive
investigation periods were considered and key developments and dominant technologies at each period were
reported. The main novelties and breakthroughs in solar assisted heat pump technology, as identified by this
review, are: (1) The ban on R-12 refrigerant which lead to dominance of R-134A refrigerant for a wide range of
systems and applications, (2) Increasing interest in Solar-assisted Ground Source Heat Pumps following the
technological advances that made the utilization of such systems cost effective, (3) Advances in numerical
analysis methods and use of Artificial Intelligence applications in investigating performance and effectiveness of
various systems, and (4) Integrating the Photovoltaic/Thermal collectors with heat pumps for simultaneous heat
and power generation resulting in improved performance and reliable operation of systems under severe operating
conditions.