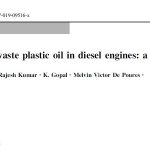 Disposal of waste plastic accumulated in
landfills is critical from the environmental perspective.
The energy embodied in waste plastic could be
recovered by catalytic pyrolysis as waste plastic oil
(WPO) which could be recycled as a fuel for diesel
engines. This method presents a sustainable solution
for (a) waste plastic management as the gap between
global plastic production and waste plastic generation
keeps widening, (b) replacing diesel partially or
wholly which is currently extracted from fast depleting
fossil crude oil. The present work attempts to bring
together all the investigations pertaining to WPO
usage either (a) as a neat fuel or (b) as a blend
component with diesel or (c) with an oxygenated
additive till date in diesel engines and reviews the
engine's performance, emission and combustion characteristics.
Majority of the works utilised WPO
extracted from mixed waste plastic as a feedstock
using a laboratory scale batch reactor via catalytic
pyrolysis. Silica, Alumina, ZSM-5 and Kaolin were
used as catalysts. This method often yielded up to 80%
of liquid WPO. This oil had a slightly lower cetane
number than fossil diesel and hence produced longer
ignition delays and higher heat releases during
premixed combustion phasing. NOx emissions were
higher with WPO which is addressed by modifying the
injection timing or by means of EGR. Contrary to
popular belief, smoke emissions are mostly lower with
WPO and could be brought down further to Euro
levels by the use of oxygenated additives. In summary,
WPO was found to run smoothly in diesel engines and
more work is necessary to study the PM characterisation
and long-term durability of the engine when
fueled with this oil.